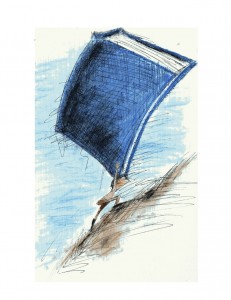 During a lazy lake vacation last year, I dropped into a chair on a screened in porch and with an admittedly undeserved level of self-pity I grumbled something that made me feel like I was eight years old again: "I wish I didn't have to read this damn book" .
About a month later, I regressed again, just plain lying about completing that same book. Instead, as I had as a summer-soaked kid, I just plucked a specific scene or two from its pages and some general understanding of the plot from the book flaps — a technique that fooled neither Mrs. Simpkins back in 6th grade nor our friends recently assembled around appetizers and glasses of white wine.
See, I wanted to read the Hardy Boys or stories about football during the summer as a sixth grader – and often anything but my book club assignment.
I guiltily masqueraded for the club, reading reviews just before our meetings to find a salient point, and developing hair-brained excuses for not completing the book — once claiming some sort of vague eye condition and once blaming our dog, who, like club members, looked on suspiciously when her name came up and I suggested that she was jealously interrupting my reading.
I eventually got to the point with our now defunct group (it disbanded temporarily, but no one urgently sought its revival, interestingly) where I would admit that I just didn't read the assignment, though that may have prompted a steady drip of non-readers to confess, often the majority, which considerably dampened the discussion. One time the conversation actually shifted to non-reading, an interesting turn, I thought, until several members noted that they would never, of course, lie about reading and began evaluating the shameless type of person who would.
But apart from this regrettable behavior – and the fact that I don't really like white wine or small food or small talk – there are other important reasons why I was glad to see the club grind to a halt, despite my affection for this group.
There are two often-cited benefits, which were masterfully branded in the Ophrah-book heyday to make book clubs sound like something we need as badly as BHA-free water bottles and Greek yogurt: the thoughtful critique and the broadening of our interests.
But I never liked to evaluate what I was reading much, and especially not if I had to capture insightful points that I might toss into the conversation like some uninformed or tangential CNN talking head. And more importantly, I didn't want to read a "book we never would have picked up if it weren't for these clubs", though that was always heralded as their contribution to modern life. I grew to think, as I reluctantly opened the pages of probably half the books we read, that it's like spending hours in an elevator with someone you don't like or weeks on a bus trip somewhere you don't want to go.
Reading is a wonderfully private thing, where, when it works, you select a book that suits you (half the fun), step into it, and then develop this relationship where you agree to give it your undivided attention if it keeps it. I don't like the idea that our society, hell bent on improving everything no matter how good it already is, grabbed reading, hyped it, and made it into another excuse to over-socialize. I soured on it, I'm afraid, the same way I had 6th grade summer reading assignments, despite the encouragement of colorful and carefully themed library posters and the smiling teachers.
That great porch vacation reading moment was telling. I finished two pages, dropped the book and fell into a deep pleasant sleep.